With TL866cs USB Programmer complete new professional design
1.True USB Universal programmer TL866CS is the first & exclusive universal programmer in the market that owns the unique features.
2.Update Online
3.Supports Thousands of Most Popular Application Devices (6000+)
Newest V6.5 TL866cs USB Programmer Plus Full Set 21pcs Socket Adapters for TL866A EEPROM Programmer
Top 8 Reasons To Get TL866cs USB Programmer Plus
Full Set 21pcs Socket Adapters:
1. Update Online
2. Last Version: V6.5
3. Language: English, Chinese
4. Support O/S: XP32Bit, Vista 32Bit, Windows7 32Bit
5. Neat Robust Enclosure; 40pin ZIF Socket, Fully Automatic; Fast Mode SPI Support
6 Real True USB Interface for Both Data Transfer and Power Supply
7. High Speed, Most-User-Friendly, Simplest-to-Use
8. Supports Thousands of Most Popular Application Devices (6000+)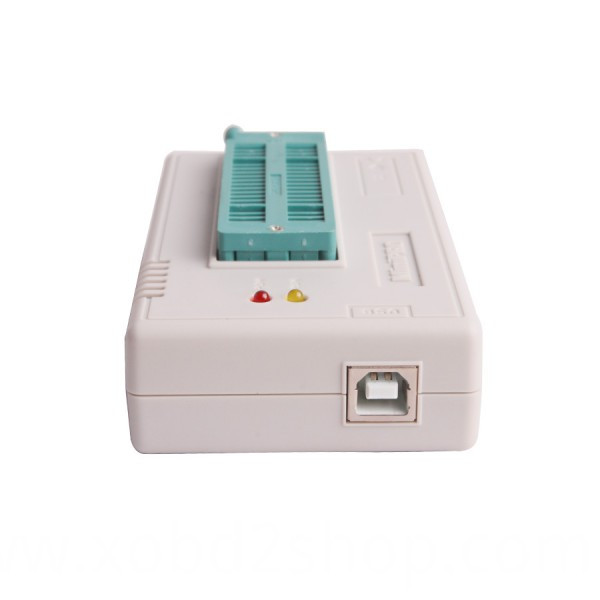 TL866cs USB Programmer
ideally suits the portable/convenient applications that includes: car automotive field ECU chip tuning, airbag reset, mileage, satellite devices, BIOS refreshing, xBox, Wii gaming machines EPROM duplicate, PIC/MCU development, newer laptop technology and newer desktop PC etc.
TL866cs USB Programmer Key & Unique Features:
1. Complete new professional design with own robust enclosure and 40pin ZIF socket Mini enclosure is designed to suit the portable and field convenient applications 40 -pins powerful pin drivers, no adapter required for any DIP devices
2. Fully automatic & no manual set-up needed (eliminate all jumpers & DIP-switch) Fully automatic for efficient use and extends the programmer life time. Eliminates all jumpers on board, manual set-up for jumpers is no longer needed (all non-USB Willem use jumpers: 16 jumpers on PCB5.0C, 48 jumpers on Willem 1.5). Eliminate the on-board DIP Switch, manual set-up for DIP switch is no longer needed. This also makes much easier & very simple to use for end users. Plug-and-play reduces the learning curve and save your precious time.
3. Fast mode SPI programming
4. True USB data transfer interface with PC/Laptop for newer laptop use as well as portable application. USB 2.0 (high speed, full speed) and 1.1 compatible interface Uses only one USB cable to connect with PC/Laptop USB port for both data transfer and power supply. The bulky DB25 data cable is eliminated & no longer needed for data transfer between PC and programmer board
5. Exponentially speed increase up to 10~20 times faster Connects PC via high-speed USB link, provides the fastest possible data transfer rates for programming/reading data from target IC`s. It is capable of being up to 20 times faster than other existing printer port Willem (Parallel LPT Willems: PCB6.xx,PCB5.0B,PCB4.5C) programmers on reading & verification a high density flash device, this significantly saves your time and increases work efficiency as well as facilitates small scale production Assembly language written programming algorithms run fast and reliable. Not affected by the PC speed changes and Windows 0/S variations.
6. Power supply capability: USB port automatic voltage control
Vcc supported among: 3.6V, 5V, 5.5V, 6.5V
Vpp support among: 3.3V ~ 21V
On-Board MCU for stable performance & automatic/accurate voltage control
Works best among other programmers for EPROMs
1pc x TL866cs USB Programmer